Introduction to Safety Management System
"SAFETY FIRST of Hamchang is the strong management intention of CEO, and the most important education task of all executives and employees."
Hamchang thoroughly complies with safety and disaster prevention policy for customers. Beginning a day with healthy body training, Hamchang reviews safety disaster as an important issue in its construction plan and establishes manual and guidelines for emergency.
In a field site, the education of safety regulations and risk factors is provided always, and safety consciousness is improved through communication.
Hamchang puts the value of life respect in the core part of management and all members take their responsibilities and play roles to achieve the goal of no disaster in the way of establishing a safe and comfortable work place.
The practical safety management of Hamchang is always evaluated by customers.
Appreciation Plaque of Safety Management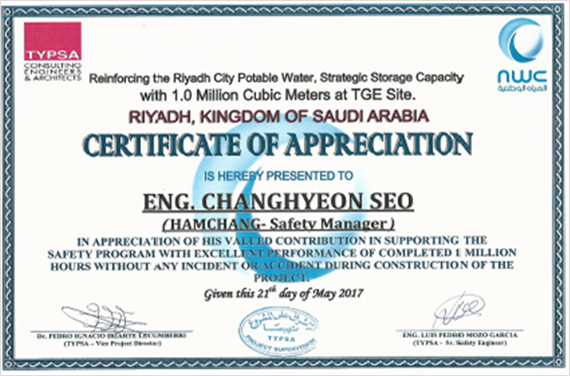 Issuing organization: National Water Company
Issuing date: May. 21, 2017
A relevant country: Kingdom of Saudi Arabia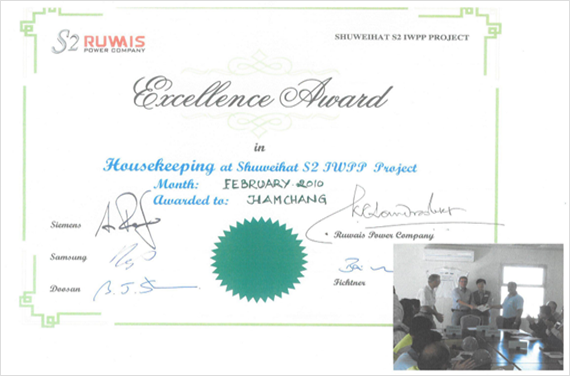 Issuing organization : Ruwais Power Company
Issuing date : FEB. 2010
A relevant country : United Arab Emirates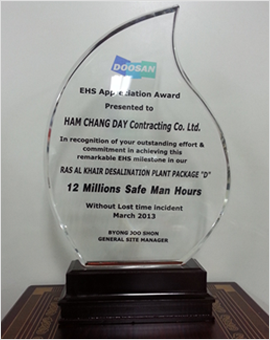 Issuing organization : DOOSAN HEAVY INDUSTRIES & CONSTRUCTION
Issuing date : MAR. 2013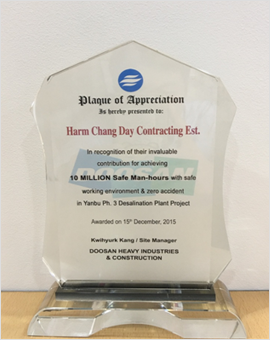 Issuing organization : DOOSAN HEAVY INDUSTRIES & CONSTRUCTION
Issuing date : DEC. 15, 2015